Houston
Good Food.

Good Friends.

Good Times.
Fun Active Things To Do In Houston
Palace Social is a family fun restaurant in Houston for partygoers, fun-seeking bowlers, high-score breakers, virtual reality gamers, friends of all ages, foodies, cocktails, and those who genuinely know how to have fun.


Multi-sport Simulator Bays
Eat & Drink
Modern takes on Southern regional classics and all-American fare with a nostalgic nod to the diner-style history of Palace Bowling Lanes. In addition to the restaurant and lounge space, the Private Dining Room is available for larger groups seating up to 45.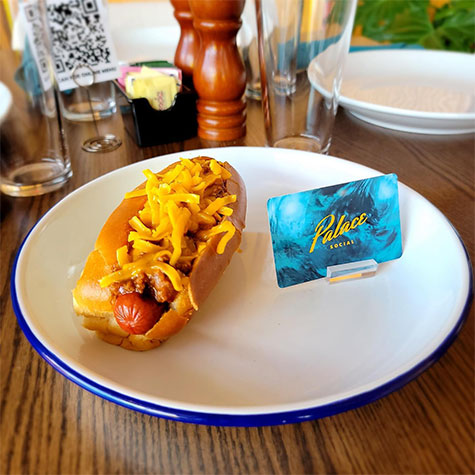 Parties & Events
Palace Social has been hailed as one of the best party venues in Houston for hosting various events, from corporate functions to birthday parties. The experienced team at Palace Social understands the importance of ensuring each event is a success, and they work closely with clients to uphold all of their needs.
Gift Cards
Palace Social Gift Cards are the perfect gift for anyone! They can be used throughout the entire venue and do not have an expiration date.
ADDRESS
Houston - Palace Social
Address:
4191 Bellaire Blvd, Suite 150,
Houston,
TX,
77025
OPEN DAILY
Houston - Palace Social
Opening Hours:
Monday
:
3:00 pm – 10:00 pm
Tuesday
:
3:00 pm – 10:00 pm
Wednesday
:
3:00 pm – 10:00 pm
Thursday
:
3:00 pm – 10:00 pm
Friday
:
3:00 pm – 12:00 am
Saturday
:
11:00 am – 12:00 am
Sunday
:
11:00 am – 10:00 pm
All guests 15 years of age and under, must be accompanied by a parent or guardian over the age of 25.
What's Happening At Palace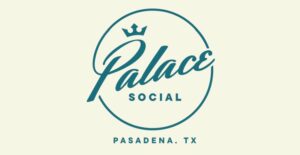 SPREADING GOOD FOOD, GOOD FRIENDS, AND GOOD TIMES TO PASADENA HOUSTON, TX (June 10, 2023) - Palace Social, a multifaceted,
Learn More
Looking for A Fun Place To Host an Event In Houston?
Palace Social is your private party venue to host your next corporate event or birthday party. We are one of the top fun restaurants in Houston, serving great food and entertainment for all ages. From our restaurant and bar serving craft cocktails to our bowling alley, arcades, and virtual reality experiences Palace Social is the ultimate restaurant with entertainment. Book your reservation for your next private party or stop by today and see why we are Houston's go-to for fun.
Best Places To Watch Sports In Houston
Palace Social is one of Houston's best sports bars and the perfect place to catch all your favorite teams in action! Our bar has something for everyone, with a wide selection of beers on tap, an extensive menu of food, and an atmosphere that's fun and exciting. Whether you're a die-hard fan or enjoy watching the game with friends, you can watch your favorite team throughout the venue, making Palace Social the ideal location for all your sporting needs. Watch your favorite team while using our multi-sports simulator bays, sitting at the bar, or even bowling. We've got plenty of big screens, so you won't miss a moment of the action, and we even have Vertuix Omni Arena VR and arcade games to keep you entertained between games.
What are your business hours?
Our business hours are:
Houston - Palace Social
Opening Hours:
Monday
:
3:00 pm – 10:00 pm
Tuesday
:
3:00 pm – 10:00 pm
Wednesday
:
3:00 pm – 10:00 pm
Thursday
:
3:00 pm – 10:00 pm
Friday
:
3:00 pm – 12:00 am
Saturday
:
11:00 am – 12:00 am
Sunday
:
11:00 am – 10:00 pm
Special Hours listed under Location & Hours
Which activities are available at Palace Social?
Palace Social has eight bowling lanes, two multi-sport simulators, a full arcade, a Dark Ride Theater, an Omniverse Virtual Reality Arena, foosball and shuffleboard. We also have a full restaurant, private dining room, dessert bar and cocktail bar.
How much are the activities at Palace Social?
See pricing here. Activities are priced individually. We do not charge a cover to enter Palace Social, but we encourage guests to use our Palace Game Cards everywhere for a better experience
Which activities require a reservation to take part in?
Parties, private and semi-private events, and groups which are larger than 12 people, require a reservation. For our main dinning room, reservations are recommended, but not required. We are currently not taking reservations for bowling lanes, multi-sports simulators, the XD Dark Ride or the Omniverse Arena.
How do I pay for activities at Palace Social?
In order to pay for our activities, you may load a game card at the front desk or one of our kiosks. Once this card is loaded with credits, you'll be able to play any of our activities. You can conveniently reload your game card at one of the kiosks in the arcade. This game card may even be used to pay for food and beverages, much like a credit card.
*Please note that certain banks will limit the number of reloads at the kiosk, however you will be able to reload at one of our main terminals.
Is there an adult night?
Palace Social is family friendly during normal business hours.  Follow us on Instagram for details on upcoming evening events.
What measures are you taking to prevent the spread of COVID-19 in the facility?
The safety of our guests and staff is our top priority.  We provide staff with facial coverings and thoroughly clean all common areas frequently using CDC recommended safety and cleaning protocols.  At Palace Social, our goal is to help you have a wonderful and memorable experience, and to feel welcome and safe.
What is your Minors and Guardians Policy?
All minors 15 years of age and under, must be companied by an adult over the age of 25. One adult may supervise up to 6 minors.  If you have questions about this policy, please call us at (713)913-4955.
Where is Palace Social Located?
How can I apply for employment?
We are always accepting applications for employment at Palace Social!  Please visit our employment page for more details on applying for our hospitality team.