About our Restaurant
Modern takes on Southern regional classics and all-American fare with a nostalgic nod to the diner-style history of Palace Bowling Lanes. In addition to the restaurant and lounge space, the Private Dining Room is available for larger groups seating up to 50.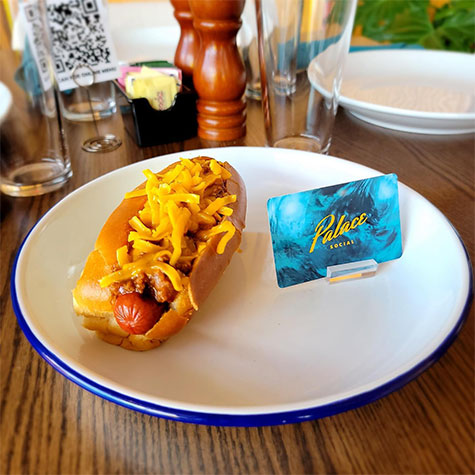 Delicate Maryland crab pan-seared and served with our own Remoulade sauce
Ground Beef, Cheese, Pico de Gallo, Crema and Jalapeños
* Add Grilled Chicken +$9
* Add Grilled Steak +$12
Roasted/pulled Chicken, Spicy Salsa Verde, Oaxaca and Monterey Jack cheeses, Pico de Gallo, Lime Crema and Guacamole
PALACE WINGS
8pc $16 16 pc $31 24 pc $45
Fried to crispy perfection and tossed in your choice of: Classic Buffalo, garlic Parmesan, Palace BBQ, Honey Habañero or Lemon Pepper
Hand Breaded and fried, lightly seasoned and served with Ranch dressing
Battered and fried, then served with our very own Ranch dressing
PLANCHA QUESADILLA
Chicken: $17, Steak: $20
Flour tortilla stuffed with our Oaxaca/Monterey Jack cheese blend, grilled, then topped with Pico de Gallo, grilled Avocado, Lime Crema and served with house made salsa
Breaded and fried, served with your choice of Marinara sauce or Ranch dressing
Bite Size, all-Beef Dogs in Tempura batter, served with honey mustard
Served with celery, carrots, pickled tomatoes, cucumbers and pita triangles
Thick slices of sweet onion, hand battered and fried, then dusted with Palace Spice
SPINACH ARTICHOKE DIP
$14
Rich and creamy, served hot with tortilla chips
Fried Mushrooms, Pickle Chips and Mozzarella Sticks, Pulled Chicken Taquitos and Wings
CHIPS AND DIPS
Salsa: $8, Queso: $10, or Guacamole: $15
Freshly fried homemade tortilla chips served with your choice of dips
Or try our Trio (Best Value): $27
Mixed greens, cherry tomatoes, red onions, cucumbers, feta cheese, toasted house-made croutons, Apple Cider Vinaigrette
Romaine lettuce, classic Caesar dressing, garlic croutons, shaved Parmesan
Mixed greens, smoked bacon, boiled egg, roasted/pulled chicken, avocado, toasted almonds, tomatoes, red onion, blue cheese
Red quinoa, farro, fresh greens, red pears, Manchengo cheese, Barley, roasted peanuts and Lemon-Tahini dressing
Crisp greens, tomatoes, cucumbers and red onions Served with your choice of signature dressing
Fresh romaine lettuce, red onion, tomatoes, Kalamata olives, feta cheese, pepperoncini and lemon vinaigrette
*Add chicken $9 | steak $12 | Gulf shrimp $11 grilled, fried, or blackened
*Signature dressings: buttermilk ranch, apple cider vinaigrette, honey habanero vinaigrette, lemon tahini
Tomatoes, Basil, mozzarella, balsamic vinegar reduction
Marinara, Pepperoni and Mozzarella cheese
Italian sausage, roasted Peppers, Provolone, Balsamic vinegar reduction and Sea Salt
Mozzarella, Tomatoes, Italian sausage, Pepperoni, Onion, Bell Pepper, Olives and Mushrooms
Fresh seasonal veggies, Mozzarella, Artichoke hearts, Spinach and creamy pesto sauce
Grilled Chicken, bacon, fresh mozzarella cheese, Jalapeno and a drizzle of our house made BBQ sauce
Half pound beef patty, American cheese, lettuce, pickles, tomato, red onions, Palace Sauce on a Brioche bun
Half pound beef patty, bacon, lettuce, tomato, red onion, hot pickle relish, Palace Sauce and red cheddar gravy
Multigrain bread piled high with avocado mash, tomatoes, red onions, seasonal sprouts, Swiss cheese and lemon-thyme aioli
Smoked turkey, bacon, ham, lettuce, tomatoes, red onions, and lemon-thyme aioli on Texas Toast
Brioche bun stuffed with grilled chicken, Pepper Jack cheese, Cabbage Cilantro slaw, avocado, tomato and Palace Sauce
PALACE CHICKEN SANDWICH
$16
Your choice of grilled or fried chicken breast on a Brioche Bun with Swiss cheese, tomato, onions, spicy pickle relish, pickles and lemon-thyme aioli
* Make it spicy with Pepper Jack Cheese, Jalapeños and Chipotle aioli
Hoagie roll stuffed with fries shrimp, lettuce, tomato, red onions, jalapeños, and Remoulade sauce
PALACE PHILLY STEAK SANDWICH
$18
Sliced steak, roasted red and green peppers, sautéed onions and Cheddar gravy on a hoagie roll
* Add fries or onion rings to any sandwich above for only $3.50
Fried shrimp with Remoulade sauce, hush puppies and fries
NEW YORK STRIP (16 OZ)
MKT
Cooked to your choice of doneness, served with chimichurri compound butter and choice of two sides
Add Mushrooms and grilled onions $3
Thick slab of our signature meatloaf, grilled and served with BBQ tomato reduction and your choice of two sides
Two generous Cod fillets battered and fried served with hush puppies, fries and malt vinegar
SHRIMP TACOS (2 PER ORDER)
$20
Marinated shrimp, Baja slaw, avocado sauce, black beans, flour tortillas served with chips and salsa
FRIED CHICKEN AND BISCUITS
$24
Half chicken fried golden brown with a corn fritter biscuit and two sides
* Please allow 25 minutes to prepare
Hand battered and topped with Country Bacon gravy, served with Texas toast and your choice of two sides
CRYSTAL BEACH PLATTER
$29
Fried Cod, breaded shrimp, seasoned fries and hushpuppies, served with Tartar sauce and malt vinegar
SPAGHETTI AND MEATBALLS
$20
Tender pasta topped with house made sauce and our special recipe meatballs, served with garlic bread
Grilled and served with your choice of two sides
Half chicken roasted to perfection, served with choice of two sides
* Please allow 25 minutes to prepare
SEARED SPINACH & GARLIC
$7
Rich, creamy vanilla or chocolate ice cream, milk, malt and savory caramel drizzle topped with whipped cream
Decadent and rich on a buttery graham cracker crust
SKILLET CHOCOLATE CHIP COOKIE
$12
Baked in it's own cast iron skillet and full of chocolate chips
(à la mode add $3)
Our house made fudge brownie studded with chocolate chips and served warm
(à la mode add $3)
Warm, rich double fudge cake filled with chocolate ganache, served with a drizzle of caramel, fudge, and a petite scoop of vanilla ice cream
For our guests 12 and under
Served with American Cheese and Palace sauce on a toasted bun with fries
Grilled Cheese sandwich served with fries
Handbreaded Chicken strips served with fries and choice of Ranch, Honey Mustard or BBQ sauce
Spaghetti drizzled with butter served with garlic bread
Flour tortilla filled with our signature cheese blend and grilled to golden perfection
All Beef Hot dog served with fries
SPAGHETTI AND MEATBALL
$11
Our homemade marinara sauce over fresh pasta and a delicious housemade meatball served with garlic bread
Pepsi, Diet Pepsi, Fanta. Hi C, Root Beer, Lemonade, Dr Pepper, Sprite
ACQUA PANNA STILL WATER
$5
NITRO COLD BREW COFFEE
$6
Saint Arnold Lawnmower
$7 / $24
Southern Star Bombshell
$6 / $25
Holler Dollar Pils Y'all
$6 / $26
Saint Arnold Art Car
$7 / $26
Eureka Heights Mini Boss
$6 / $25
Lone Pint Yellow Rose
$8 / 28
Dragons Milk Stout
$9 / $35
Live Oak Hefeweizen
$8 / $35
DOMESTIC BOTTLES
$6 / $30
Bud Light, Budweiser, Michelob Ultra, Coors Light, Miller Lite, Yuengling, Shiner Bock, Heineken NA
Corona, Modelo, Dos XX, Stella Artois, Pacifico
CRAFT BEERS/SELTZERS
$7 / $35
Pulp Art, Topo Chico Strawberry Guava Seltzer, High Noon Pineapple Seltzer, real Ale Hans Pils, Ranch20 Vodka Cranberry, 8th Wonder Water Seltzer
St. Michelle Riesling Washington
$8 / $31
St. Christina Pinot Grigio Italy
$9 / $35
Sand Point Pinot Grigio Lodi
$10 / $25
Becker Iconoclast Texas
$8 / $31
Chateau Montelena Napa
Btl $99
Sand Point Lodi
$10 / $25
CastleRock Oregon
$10 / $39
Ponzi Tavola Oregon
$16 / $63
Messina Hof Texas
$11 / $43
Sand Point Lodi
$10 / $25
St. Francis Merlot Sonoma
$13 / $51
Montes Malbec Chile
$9 / $35
Conundrum California
$10 / $39
Sand Point Merlot Lodi
$10 / $25
Sand Point Rose Lodi
$10 / $25
Cakebread Cellars Napa
Btl $62
Becker Vineyards Texa
$8 / $31
Sand Point Lodi
$10 / $25
Cakebread Cellars Napa
Btl $79
La Crema Sonoma
$14 / $55
Sand Point Lodi
$10 / $25
Torresella Prosecco Italy
Btl $30
La Perlina Moscato Italy
Btl $31
Nicolas Feuillatte Brut Chouilly France
Btl $75
Maschio Prosecco Italy
$9
Luc Belaire Bleu France
$14 / $68
Sand Point Moscato Lodi
$10 / $25
Andalusia Stryker
Smoky and slightly sweet
Yellow Rose Outlaw
Moderate oak and sweet finish
8th Wonder Hammer Down
Notes of honey, caramel, and vanilla
LUCK OF THE LEPRECHAUN
$32
Kilbeggan
Mild and enjoyable with a note of spice finish
Powers
Smooth and spicy Irish whiskey with cinnamon and oak notes throughout
Proper Twelve
Begins with hints of lime, finishing with notes of apple and pear
RedBreast Single Pot Still
Rich and malty with fruit spice and a slightly nutty undertone
Lagavulin 8 yr Single Malt Scotch
Grassy with hints of vanilla and green apple
Canadian Club Canadian Whiskey
Smooth and smokey with a delicate oak finish
Basil Hayden's
Smooth and well balanced with a hint of sweetness and a slightly bitter undertone
Angels Envy
Light vanilla and oak flavors with a swirl of leather
Peerless Small Batch
Strong caramel and tobacco flavors give way to charred barrel and Butterscotch
Willet Pot Still Reserve
Honey and caramel fade into a satisfying rye spice and citrus finish
Bulleit Rye
Mild with a slight dill or pine flavor that grows into brown sugar and orange
WhistlePig 6 yr Rye
Vanilla and brown sugar blend perfectly with a well balanced bold rye spice
Rittenhouse 100 Proof Rye
Definitive, strong rye spice with a sweet finish
Auchentoshan 12 yr Single Malt
Barley and vanilla at first taste with a syrup like smoothness giving way to a bitter finish
Bruichladdich Scottish Barley
Starts sweet and fades into a more oak flavor with a medium length finish
Laphroaig 10 yr Single Malt
Slowly developing spirit with a nice brine that fades into a very smoky finish
Jose Cuervo Silver, fresh lime juice, Triple sec and just a hint of sweet
* Add your choice of fresh fruit flavors +$2: Watermelon, Blueberry, Mango, Blood Orange, Strawberry, Raspberry, Peach
Fresh Peach, Proper Twelve Whiskey, Orange and Sparkling wine in a refreshing frozen cocktail
Deep Eddy Lime Vodka pairs with Black Cherry for a refreshing treat
Strawberries, Dry Vermouth and Rose Wine
FROZEN JACK AND PEPSI
$12
A classic cocktail in frozen form. Jack Daniels, Pepsi and a hint of lime
Patron Silver Tequila, Agavero, Fresh Lime juice and a hint of fresh Pineapple bottled in house, served with Tajin and a lime wedge
BARREL AGED OLD FASHION
$16 / $22
Heaven's Door Double Barrel Whiskey, handcrafted bitters, Fresh Orange and Turbinado syrup, aged in our own charred oak barrel for at least 30 days
Our own blend of fresh fruit juices, Captain Morgan Spiced Rum and a 151 floater
A blend of tropical fruit juices and island Rum served inside a freshly-cut pineapple
8th Wonder Vodka, espresso, a hint of vanilla and chocolate with Kahlua
Gran Centenario Añejo tequila, Orange Marmalade and Illegal Mezcal
Empress Gin, fresh orange and crisp tonic water
8th Wonder Rum, Raspberry, and Fresh Lime
SIGNATURE OLD FASHIONED
$12
Yellow Rose Outlaw Whiskey, handcrafted bitters and fresh orange
Ghost Tequila, Cream of coconut, and fresh pineapple juice
CHIPOTLE PINEAPPLE DAIQUIRI
$12
Fresh pineapple paired with a hint of spice, Bacardi Silver Rum and lime juice, hand shaken, served on the rocks
Lucky Stash CBD-infused Blue Agave Liqueur, fresh lime juice, mint, simple syrup, topped with 8th Wonder Delta 8 Seltzer
Monday 3pm – 10pm & Tue – Fri 3pm – 6pm
8th Wonder Vodka/Gin/Rum, Hammer Down, El Jimador Tequila, Jack Daniels
Margarita, Peach Bellini, Cherry Limeade, Jack and Pepsi, Frosé
12 oz Beers & Seltzers
$5 / $25
Choose from our extensive selection
16 oz Montucky Cold Snack
$3
Sand Point Cabernet Sauvignon, Chardonnay, Pinot Grigio, Merlot, Moscato, or La Vieille Ferme Rosé
Palace Ranch Water
$10 / $50
Sparkling water, Lime, Pineapple, Patron Silver Tequila, and Agavero Orange Tequila. Bottled in-house and garnished with Lime and Tajin
Does the restaurant require a reservation?
A reservation is not required to dine with us; however, a reservation is encouraged on weekends.
How do I make a dining reservation?
Where in the venue may we dine?
You may enjoy a drink, meal or snack in our main dining room, at the bar, and in one of our lounge spaces or at one of the eight bowling lanes. We do not allow food or beverages in the arcade.
Does Palace Social have a happy hour?
Yes! We offer Happy Hour for select drinks Monday – Friday from 11am – 6pm.