About our Pasadena Restaurant
Modern takes on Southern regional classics and all-American fare with a nostalgic nod to the diner-style history of Palace Bowling Lanes with multiple rooms for seating and private events.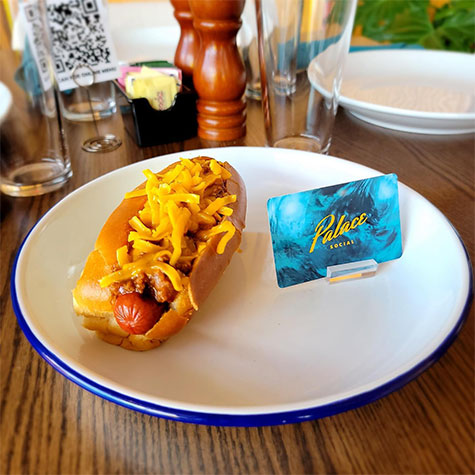 Cajun Boudin in a crisp eggroll wrapper , fried golden brown and served with zesty remoulade sauce
Ground Beef, Cheese, Pico de Gallo, Crema and Jalapeños
* Add Grilled Chicken +$9
* Add Grilled Steak +$12
Palace Wings
8pc $15 16 pc $29 24 pc $40
Fried to crispy perfection and tossed in your choice of: Classic Buffalo, Garlic Parmesan, Palace BBQ, Honey Habañero, Jerk or Lemon Pepper
Battered and fried, then served with our very own Ranch dressing
Plancha Quesadilla
Steak $20 Chicken $17
Flour tortilla stuffed with our Oaxaca/Monterey Jack cheese blend, grilled, then topped with Pico de Gallo, grilled Avocado, Lime Crema and served with house made salsa
Breaded and fried, served with your choice of Marinara sauce or Ranch dressing
Roasted Garlic Hummus
$14
Served with celery, carrots, pickled tomatoes, cucumbers and pita triangles
Spinach Artichoke Dip
$14
Rich and creamy, served hot with tortilla chips
Romaine lettuce, classic Caesar dressing, garlic croutons, shaved Parmesan
Mixed greens, smoked bacon, boiled egg, roasted/pulled chicken, avocado, toasted almonds, tomatoes, red onion, bleu cheese
Served with your choice of signature dressing
Crisp greens, tomatoes, cucumbers and red onions
Served with your choice of signature dressing
Fresh romaine lettuce, red onion, tomatoes, Kalamata olives, feta cheese, pepperoncini and lemon vinaigrette
Signature dressings: Buttermilk Ranch, Apple Cider vinaigrette, Honey-Habanero vinaigrette, Lemon Tahin
Add Chicken $4, Gulf Shrimp $9
Carrot and Celery Sticks
$6
Apple, Orange, 1% or Chocolate
Red Velvet Skillet Cookie
$10
add Chocolate or Caramel $1
Chocolate, Vanilla or Strawberry
Half pound beef patty, American cheese, lettuce, pickles, tomato, red onions, and Palace Sauce on a Brioche bun
Our signature burger patty piled with grilled onions and swiss cheese on toasted Rye Bread.
Smoked turkey, bacon, ham, lettuce, tomatoes, red onions, and lemon-thyme aioli on Texas Toast
Brioche bun stuffed with our signature veggie patty, Lettuce, Tomato, pickle and Palace Sauce
Palace Chicken Sandwich
$15
Your choice of grilled or fried chicken breast on a Brioche Bun with Swiss cheese, tomato, onions, spicy pickle relish, pickles and lemon-thyme aioli
* Make it spicy with Pepper Jack Cheese, Jalapeños and Chipotle aioli
Hoagie roll stuffed with fried shrimp, lettuce, tomato, red onions, jalapeños, and Remoulade sauce
Palace Philly Steak Sandwich
$17
Sliced steak, roasted red and green peppers, sautéed onions and Cheddar gravy on a hoagie roll
* All sandwiches are served with your choice of Fries or Onion Rings.
Tomatoes, Basil, mozzarella and balsamic vinegar reduction
Marinara, Pepperoni and Mozzarella cheese
Italian sausage, roasted Peppers, Provolone, Balsamic vinegar reduction and Sea Salt
Mozzarella, Tomatoes, Italian sausage, Pepperoni, Onion, Bell Pepper, Olives and Mushrooms
Fresh seasonal veggies, Mozzarella, Artichoke hearts, Spinach and creamy pesto sauce
Grilled Chicken, bacon, fresh Cheddar cheese, Jalapeno and a drizzle of our house made BBQ sauce
Served with Fries and your choice of Honey Mustard or BBQ Sauce
Herradura Silver, fresh lime juice, Triple Sec and just a hint of sweet
* Add your choice of fresh fruit flavors +2$: Watermelon, Blueberry, Mango, Blood Orange, Strawberry, Raspberry, Peach
Fresh Peach, Slane Irish Whiskey, Orange and Sparkling wine in a refreshing frozen cocktail
Deep Eddy Lime Vodka pairs with Black Cherry for a refreshing treat
Strawberries, Dry Vermouth and Rose wine
Frozen Jack and PEPSI
$12
A classic cocktail in frozen form. Jack Daniels, Pepsi and a hint of lime
Hornitos Silver Tequila, 21 Seeds Valencia Orange Tequila, Fresh Lime juice and a hint of fresh Pineapple bottled in house, served with Tajin and a lime wedge
Barrel Aged Old Fashion
$13 / $18
Knob Creek 7 yr Rye Whiskey, handcrafted bitters, Fresh Orange and Turbinado syrup, aged in our own charred oak barrel for at least 30 days
Our own blend of fresh fruit juices, Captain Morgan Spiced Rum and a 151 floater
A blend of tropical fruit juices and island Rum served inside a freshly-cut pineapple
Haku Vodka, espresso, a hint of vanilla and chocolate with Kahlua
Tres Generaciones Añejo Tequila, Orange Marmalade and Illegal Mezcal
Big enough to share! Vodka, Rum, Gin, Tequila, Blue Curacao and Red Bull.
*minimum two people, limit 2
Signature Old Fashioned
$10
Yellow Rose Outlaw Whiskey, handcrafted bitters and fresh orange
Cointreau, Fresh Lime juice and Cranberry
Chipotle Pineapple Daquiri
$10
Fresh pineapple paired with a hint of spice, Bacardi Silver Rum and lime juice, hand shaken, served on the rocks
Lucky Stash Hemp-infused Blue Agave Liqueur, fresh lime juice, mint, simple syrup, topped with 8th Wonder Delta 8 seltzer
House-made Sour Mix, Tanteo Habanero tequila, Fresh Jalapeno, Triple Sec and Fresh Lime juice
SipShine Berry Sweet Tea Moonshine and Lemonade
SipShine Watermelon Chillade Moonshine with Blue Chair Bay Coconut Rum and Fresh Lime Juice
Remy Martin 1738 paired with Fresh Lime Juice and simple syrup.
Domestic Bottles
$6 / $30
Bud Light, Budweiser, Michelob Ultra, Coors Light, Miller Lite, Yeungling, Shiner Bock, Heineken NA, Angry Orchard Green Apple Cider
Corona, Modelo, Dos XX, Stella Artois, Pacifico
Craft Beers/Seltzers
$7 / $35
Topo Chico Strawberry Guava Seltzer, High Noon Pineapple Seltzer, Nutrl Watermelon Vodka Seltzer,
Saint Arnold Harmony
$6 / $25
Saint Arnold Lawnmower
$6 / $25
Seasonal Rotator
$6 / $25
Sand Point, Lodi
$8 / $25
Cabernet Sauvignon
Sand Point, Lodi
$8 / $25
Merlot
Sand Point, Lodi
$8 / $25
Pinot Noir
Sand Point, Lodi
$8 / $25
Chardonnay
Sand Point, Lodi
$8 / $25
Pinot Grigio
Sand Point, Lodi
$8 / $25
Rosé
Sand Point, Lodi
$8 / $25
Moscato
Where in the venue may we dine?
You may enjoy a drink, meal or snack in our main dining room, at the bar, and in our Game Time area or at one of the twelve bowling lanes. We do not allow food or beverages in the arcade.
Does Palace Social have a happy hour?
Happy Hour is Monday 3- close (Industry Night) and Tuesday – Friday 3 -6 pm.